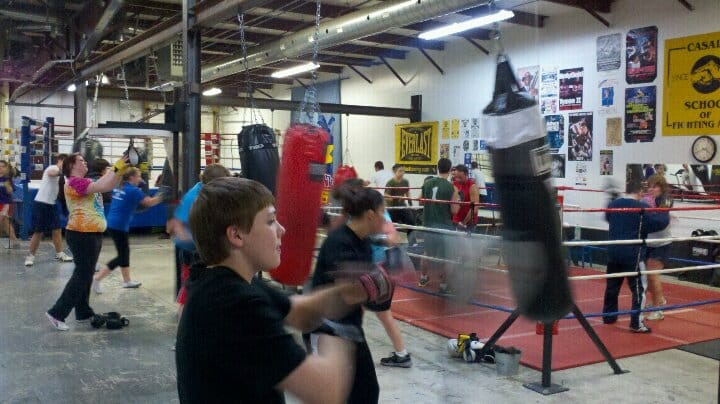 Great family atmosphere! First time bringing my baby girl and she loves it! Wish I had heard of this place 2 years ago when she was asking me to box- couldn't find a place that would take/train girls!! Glad she's going now! Workout like no other!
Nothing compares! Tough gym taught by a coach who knows what he's doing. From my personal experience Ray has always shown respect and compassion to everyone that enters those doors!
Love this gym.  It's definitely what you expect from a boxing gym, this is not a LA Fitness wannabe class. Ray and his coaches are going to put you to work and I love it. Ray treats everyone like family. I hadn't been here in 12 years and it was like no time had passed! You can't beat the price for what I consider personal training. I drive 30-40 minutes 3-4 times a week, in rush hour traffic, from Buffalo to Niagara Falls. That's how committed he's made me!
I have been here off and on for the last 20 years. Ray is an absolutely​ amazing instructor who helped me to get out of my wheelchair after a tragic car accident 13 years ago. No mercy! I still go today and love it. He is great with all age groups! 
🙂
Great gym, great people, and exceptional instruction !!! Very highly recommended
Love training here. Ray is an awesome trainer who knows your abilities and will push you to achieve them. I agree with Tamika, you are family to him. I can't wait to recover from my foot surgery and return. Am in good hands here.
If you want to get in shape and/or fight then look no further. Ray Casal has a lifetime of experience coaching champion after champion. He will push you farther than you think you can go. He is simply the best. If you live in this area and train somewhere else, then your wrong.
Excellent traditional boxing workout. Ray is very knowledgeable, professional, and helpful. Can't wait to get back here and workout with my sons.
Did every sport except boxing because I didn't like it and didn't know anything about it , coach casal worked with me and coached me now I love boxing and always attend boxing practice everyday , it's the best place to box and work out!!!
Best boxing club in New York....maybe the world.... due to presence of Ray Casal directly teaching you. The guy the best....period. The workout cannot be beaten, no where, and Ray doesn't try to pick your pocket. My kids and I were there for three years, and loved it. Now I miss it very much, being in Texas. Ask anybody about what I say.
Been with Ray since I was 13 hes helped me keep my mind on my goals even when I'm not in ny I know training hard equals results. Thank you 
❤️
He is an awesome coach!!! I was worried when I decided to sign my boys up. By the end of their first day they wanted to keep going!! He and his guys are awesome. They treated the kids with respect and didn't treat them differently from one another!!! I have so much respect for him and his gym.
I have had the honor and privilege to be trained and brought to a level i never thought possible by ray and for many years.and on top of that he has been one of my greatest friends and mentor.his level of training and conditioning with his expertise is unmatched in the area.on top of it all it is a safe friendly atmosphere for all from young to old.a true old school real deal boxing gym.